My breeding station, z Kamilova dvora, started off in 1987: that is when I started with dog breeding. My first breed was the Irish Water Spaniel (my last representative of this breed went to doggie heaven last summer - Mandy z Vydrovky - see the photograph on the right) though I raised only one litter of Water Spaniels. Nonetheless, they remain in my heart and I would like to have an Irish Water Spaniel again.
In 1997, a new addition to our family arrived, our first Chinese Crested - Adžika Čin-Čin Pet. (Originally, I bought her from Mrs. Holečková as a gift for my, then 17-year old, sister, who suffers from allergies. At that time, my sister was graduating from high school. She never received the gift. Ve decided to keep Odetka - that is how we renamed the Chinese Crested - ang later, I got my sister a bunch of flowers and a box of chocolates instead.) A year later, I kept a female puppy, Adéla z Kamilova dvora, from our first litter. In 1999, I bought a male, Blue Boy Čin-Čin Pet.
At that time, I began attenging dog shows and naturally fell in love with the "Modrý květ's (Cresteds from the breeding station, Modrý květ, owned by Jirka Pospíšil). I had waited for my first hairless female dog from the highly prized breeding station for two whole years. That is when we got Chantal Modrý květ, Jasmine Modrý květ arrived a year after her.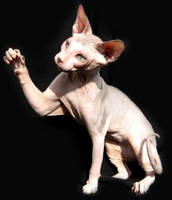 The latest dog in our house is a Large Munsterlander, a female with a noble origin - Dona od Nezdického potoka. She joined our pack in April 2004. At home, we call her Sára. It was the head of the household, who pushed Sára through into our pack.